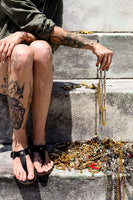 DONATE YOUR OLD JEWELS
We are thrilled to announce that Gallery 2052 is collaborating with the artist-run nonprofit Ethical Metalsmiths to stage Radical Jewelry Makeover: Chicago, a community jewelry mining project for which we are currently seeking donations of your old or unwanted jewelry.

Through October 6, the Chicago edition will solicit and accept donations of unwanted jewelry from community members in an effort to highlight a supply chain that offers an alternative to traditional mining. A group of Chicago-based Professional Jewelry Artists will subsequently transform unwanted jewelry donations into fresh, responsibly-sourced jewelry. If you donate your old jewelry to be 'madeover', you'll receive a discount code for the culminating exhibition in Spring of 2024. Donations can be made to Gallery 2052 during business hours, or the donation form can be printed using the link below and mailed with accompanying donation.
DONATE!
DOUX BIJOUX
"Doux Bijoux" is an original mural by Aurélie Guillaume complete with her signature enameled art jewelry situated within the funky, yet idyllic scene. The artist depicts herself, daydreaming amongst flowers and swans, in nostalgic tones of fluorescent pink and orange, with cobalt blue lining.
SHOP BIJOUX